Check out our Special
Offer for this
course!
Make a deposit payment to secure your place on a course before the end of the month and qualify for a free advanced level online course. You can choose from the 50-hour young learners (CTEYL) or business English (CTBE) certificate courses or the 250-hour online diploma course.
Location / USA / Las Vegas NevadaAbout the school
TEFL Certification in Las Vegas Nevada | TEFL USA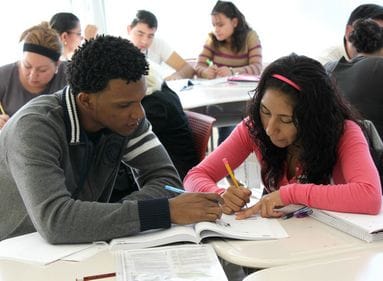 During your time on our Las Vegas course you will never be far away from all the fun and excitement as our training center is conveniently located within walking distance of the vibrant downtown area. If you are not so energetic you can also take advantage of the city's public transport that can be found right outside the building. From our center you can easily reach all the main areas in and around the city, including the Las Vegas Strip, the Fremont Street area, and McCarran International Airport.
The venue for our course is a modern language center that provides the perfect environment for teacher training. Each classroom is equipped with everything necessary for the delivery of professional language lessons, including air-conditioning for the summer months. We also have Wi-Fi throughout the center and an extensive library of teaching resources. During the course you will be in class from 5:30 p.m. to 10:00 p.m. Wednesday to Friday and from 9:00 a.m. to 5:00 p.m. on Saturday and Sunday. The class size for each course is intentionally restricted to give every trainee the maximum amount of individual instruction possible.
Apply Now!