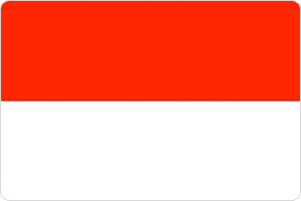 The Republic of Indonesia consists of a mind-boggling 17,508 islands and has a population of approximately 230 million people, a figure that makes it the fourth most populated country in the world. However, despite the huge population, Indonesia still has vast areas of wilderness that are home to some of the most diverse flora and fauna on the planet.
Indonesia touches both the Pacific Ocean and the Indian Ocean while also bridging the continents of Australasia and Asia. The Indonesian Archipelago stretches for over 5,000km and is located entirely in the tropics, on both sides of the equator. The country is culturally and linguistically diverse, with around 500 languages and dialects spoken by its many different ethnic groups. Indonesia is also an incredibly beautiful country with many stunning beaches and islands, active volcanoes and thick, dense jungles.
For many, the main attraction of Indonesia is the lifestyle and customs of its people. For those that decide to take a TEFL course in Indonesia, you will experience a colourful, dynamic country with a huge variety of experiences and sights to enjoy. Also, there is never a bad time to visit the country as its climate is tropical year round, with hot and humid weather inland that is often cooled by pleasant breezes on the coast or cooler air in the mountainous regions.
TEFL Course Indonesia
The ITTT course in Indonesia is located in Surabaya, Indonesia's second largest city situated on the eastern side of the island of Java. Although Surabaya is a large and highly populous city, it is also a very important centre of education with one of the largest student communities in Indonesia.
In terms of post-course employment opportunities, Indonesia ranks high for its demand for qualified EFL teachers and you are all but guaranteed a teaching position after the course. Salaries and working conditions are generous by local standards so it is a great place to gain some valuable TEFL experience, while also earning enough income to live comfortably. In addition, Indonesia is also perfectly situated to access TEFL job opportunities throughout Asia and further afield.
The stunning beauty of the country, the relaxed lifestyle, the low cost of living and the numerous post-course employment opportunities are just some of the attractive reasons for taking your TEFL course in Indonesia with ITTT.
Apply now & get certified to teach english abroad!