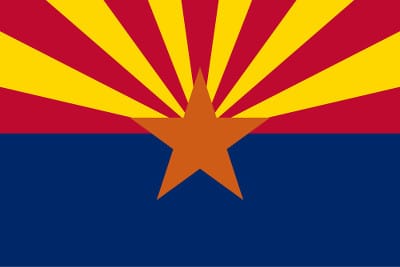 The state of Arizona is blessed with abundant natural wonders and a long history. Due to the booming copper mines in the in the 19th century, Arizona is also called "The Copper State". You can also find world-famous attractions like the mighty Grand Canyon in Arizona. This national park attracts many millions of people from across the world each year with its orange and red sandstone formations and scenic hiking routes along the Colorado River. The Grand Canyon National Park was named a UNESCO World Heritage Site and is also among the oldest parks in America.
Arizona is home to a splendid collection of parks and is, therefore, the perfect destination for those who seek to spend quality time in nature. You have the choice between 22 national parks and 30 state parks in Arizona offering scenic hiking and biking routes. On top of that, due to the many bodies of water in Arizona, visitors can also engage in call kinds of water sports activities, including kayaking, swimming, and even fishing. The more adventurous travelers can also go jet-skiing or white water rafting through the canyons.
One of the most popular parks is Sedona National Park. The park features a collection of unique sandstone formations that were created over millions of years due to weather and climate impacts. The Apache and Yavapais native tribes, who lived in the area before settlers arrived, declared many parts of Arizona sacred, especially its canyons and sandstones. What makes Sedona's sandstones so unique is their glow in hues of orange and red. On top of that, the park also has various tall waterfalls that you will pass during your hike. If you want, you can simply jump in the many pools at the bottom of the falls and relax before continuing your hike. Each of the parks offers unique routes for biking, hiking and also horseback riding. You can even explore the canyons by climbing their rocks!
There are many vibrant cities you should visit in Arizona. A great example is Phoenix, as it offers a great choice of attractions for locals and visitors alike. The local Odysea Aquarium is one of the biggest of its kind in the country and the unique Musical Instrument Museum should be on top of your list. Shop for the best deals at Kierland Commons and soak in history at Frank Lloyd Wright's winter home.
Another exciting metropolis is the city of Tucson. Not only will you find historic attractions there, but also a great selection of entertainment and culinary options. In fact, Tucson was named "UNESCO City of Gastronomy", the first in the world. If you are looking for a Wild West city with relaxing resorts, golf courses, and splendid restaurant options, Tucson is your best bet.
The state of Arizona is also a popular destination for students from all parts of the world. Especially the programs at Northern Arizona University are said to be the most renowned in the region. That's why Arizona is the perfect gateway towards your career in ESL teaching. With your TEFL/TESOL qualification in hand, you can embark on your adventure of teaching English as a foreign language around the world.
Register now & get certified to teach english abroad!