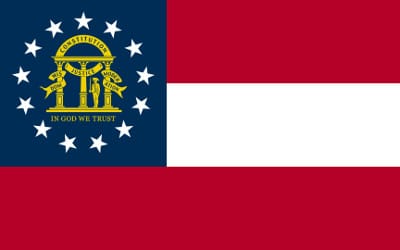 If you are looking for an exciting destination to take your TEFL/TESOL course in, choose Georgia! Filled with historic sites, spectacular national parks, and exciting cities, Georgia is a great place to become an English language teacher. Georgia is the last of the original Thirteen Colonies and features quite a collection of historic sites. On top of that, its natural landscapes are also worth noting, especially the northern part with the Blue Ridge Mountains and the east with its splendid Atlantic Coast. Visitors and locals also have the choice between over 60 major parks where they can engage in various different outdoor activities. Atlanta is home to our renowned training school. The center is located in downtown Atlanta and offers convenient amenities.
To explore Georgia to the fullest, you need to get outside and venture into the vast untouched landscapes filled with national and state parks, scenic paths and adventurous trails. Georgia boasts fascinating wildlife and flora and fauna, including splendid foliage, tall pine trees and meadows of wildflowers. A popular destination for outdoor fun in Georgia are the 80 miles of hiking trails at the Appalachians. The mountain range leads from Maine down to Georgia and covers over 2000 miles in total. The Chattahoochee River is another popular national recreation area ideal for those looking to engage in water activities. Whether it's boating, swimming, kayaking, fishing or water skiing, you will find a place to do it here. You will find serene beaches, marshes, freshwater lakes and high sand dunes at Cumberland Island National Seashore in Georgia's Southeast. This national preserve is located on the Atlantic Coast and offers the best sunsets in the state.
If you are a history buff, you will find that there is a lot to see in Georgia, including heritage and history museums, unique trails and tours, Civil War attractions and historic homes. For example, Old Fort Jackson is one of the oldest and most significant historic witnesses in the state. Built in 1808, the fort is situated on the banks of the Savannah River, convenient to shoot down any vessels coming near the state's coast. Old Fort Jackson is the oldest standing brick fortification in Georgia and one of its most popular attractions. The Old Governor's Mansion is another example of the historic value of Georgia. Former home to several governors from 1839 to 1868, the building also played an important role in several historic incidents and events.
If you are looking for action-packed activities, Georgia leaves nothing left to be desired. Zip lining, rock climbing, motorcycling, hang gliding or even skydiving are only a few of the thrilling activities you can try out in Georgia. Also worth mentioning is Georgia's exceptional culinary scene with splendid dining options, especially for Southern cuisine.
Take part in our TEFL/TESOL program and you have one month in one of America's most iconic locations. Our training center in Atlanta is the perfect stepping-stone towards your international career of teaching English as a foreign language.
Register now & get certified to teach english abroad!