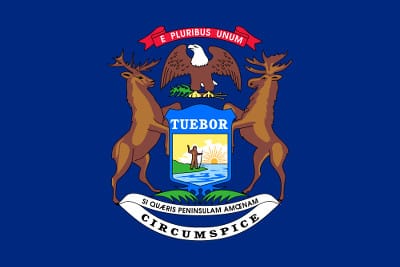 Michigan is a unique state featuring beautiful scenic landscapes with a coast at the Great Lakes. Being the only state that consists of two separate peninsulas, it is no wonder that Michigan is a popular destination for many to spend a thrilling vacation. In fact, "The Great Lakes State" attracts millions of visitors from across the globe each year due to its fascinating outdoor offers. Visitors in Michigan especially like to go on long hikes or treks through the mountains. Many like to explore the state's parks on horseback, stopping the Great Lake shores to swim, take the boat out or go fishing. Michigan is the perfect place to get in touch with nature.
Visit Michigan and you have the choice between 97 state parks, 6 state forests, and 4 exciting national parks. As you can see, you will not get bored when in Michigan. To fully embrace the natural scenery of Michigan, you should camp or rent a cabin in the woods. Not only will you find tranquility in nature, but your neighbors will be wild deer and hares. The parks also feature many historic artifacts and sculptures that make for the perfect combination of nature and history. People say the many parks in Michigan are also the perfect place to catch a splendid sunrise or sunset. Many also have a favorite spot for stargazing in Michigan's forests and parks.
Come to Michigan in winter and you will find that it is probably one of the most active times of the year. The state is equipped with over 6,500 winter sports trails where you can go skiing, snowboarding or snowmobiling. Over 51 independent skiing areas are home to over 1,000 different slopes with 260 lifts. You can be sure that you will find a slope for your skill level in Michigan. Also take advantage of the thousands of frozen lakes, where you can go ice fishing, ice-skating or play ice hockey.
Come back to Michigan in spring and you will find lush flora and fauna and prospering wildlife. As the seasons come and go, Michigan's parks and forests shine in all different colors, making it impossible to get bored. If you are looking for an interesting attraction, try Mackinac Island. Here, it seems like time hasn't passed. Horses are used instead of cars and almost every business is still family-owned on the island. When landing on Mackinac Island, it seems as if the Revolutionary era never ended.
As you can see, you will not regret coming to Michigan for your TEFL/TESOL course. In fact, you will have access to limitless opportunities once you hold your internationally recognized qualification in hand. Once you successfully completed your course, you can embark on your exciting adventure of teaching English as a foreign language in different parts of the world.
Register now & get certified to teach english abroad!