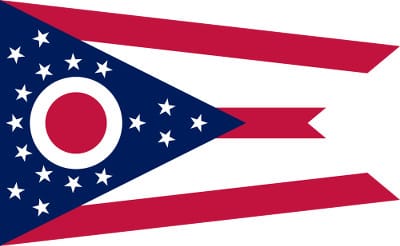 Ohio is a state that has a lot to offer. Most people come to Ohio to explore the untouched nature, the lakes, and the abundant wildlife. The Serpent Mounds are one of the state's most famous attractions. These earthworks were created by people who inhabited the area of Ohio over 20,000 years ago. Experts say they built the mounds to keep track of the sun's movement. Lake Erie and the Ohio River give the state the perfect climate for a lot of species to thrive. That's why so many visitors come to Ohio to enjoy the fascinating natural wonders of the region.
On top of that, the climate is ideal for wine making and countless vintners grow a wide variety of different grapes in Ohio. You can find anything from Riesling to Chardonnay and from Pinot Grigio to Cabernet Franc. Wine lovers should especially visit Ohio's wine country in June when it is Wine Month or in August for the annual Vintage Ohio Wine Festival with musical performances, fun fairs, and BBQs. Visit during any other time of the year, and you will find a relaxing atmosphere. Stay at one of the many resorts and you will have the perfect weekend getaway to unwind and escape the hustle and bustle of the city.
Ohio is worth a visit throughout the whole year, as each season completely transforms Ohio's nature. This is especially evident when visiting the famous Cuyahoga Valley National Park. However, this is not the only park Ohio has to offer. In fact, the state has over 130 nature preserves and 74 state parks. On top of that, the variety of hiking trails is suitable for any kind of hiker – experienced or beginner. If you are a beginner, you should go to northwestern Ohio where the trails are significantly flatter and easier to conquer. However, if you are looking for adventure and a challenge, visit South Ohio. Not only will rock climbers find excellent opportunities to appreciate nature in Ohio, but water sports fans can also engage in boating, kayaking or fishing at the many lakes and rivers. You can be sure that there is always a cabin waiting for you.
Ohio also has a couple of exciting cities that you should not miss when in the state. Some of the most interesting cities are Columbus, Cleveland, and Cincinnati. Not only do the cities have historic landmarks, museums, theaters and a great selection of restaurants, bars and coffee shops, but they are also a great place for those who want to watch heated sports games, such as baseball or football.
Students from around the country and different parts of the world also come to Ohio to attend one of its prestigious schools. The state offers some of the best higher education programs in the region, which makes Ohio the ideal location for your TEFL/TESOL course. After successfully completing our course, you will hold in hand an internationally recognized teaching certification and can embark on your adventure of teaching English as a foreign language in countries around the globe.
Register now & get certified to teach english abroad!