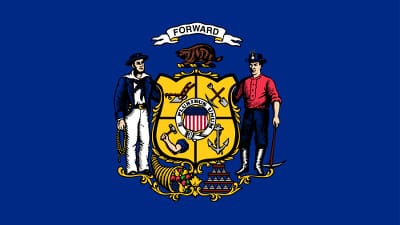 If you are looking for a destination with lush nature and stunning scenery in America, come and visit Wisconsin. Even though the state is nicknamed "America's Dairyland", there is far more to see in Wisconsin than just farmland. However, it is worth noting that the state is America's largest producer of dairy product and also produces the best cheese in the country. Take a closer look and you will find that Wisconsin offers lush nature, including big forests, lakes, and even waterfalls. Due to its location at the Great Lakes, Wisconsin is a major destination for water sports enthusiasts, but you can also find plenty of trails for hiking and biking. Join our TEFL/TESOL course in Wisconsin and spend four exciting weeks in the state.
The coast of Lake Superior in Wisconsin is a major tourist destination during all four seasons. Located close to Chippeway Valley, you will find plenty of exciting trails for hiking and biking, while the Northeastern part of Wisconsin is ideal for water sports fans as it borders Lake Michigan. Whether you like water skiing, whitewater paddling, boating or simply swimming, you can do it here. Apostle Islands are a great place if you want to go fishing or kayaking, for example. As you can see, there is always a great place to visit in Wisconsin and you will not get bored.
Travel south and you will find deep valleys and snowy glaciers in Wisconsin. The border to the Mississippi also makes it possible for abundant wildlife to thrive. Following the riverfront, you will come across lovely coastal towns where you can find the best regional food. Another major destination is Lake Winnebago, as it is the largest lake in the state and a place to relax and forget the hustle and bustle of the city. Not only can you rent a cabin or stay at a luxurious spa resort here, but you can simply bring a tent and sleep under the stars. There is no better place to find tranquility than hiking the many trails in the area or engaging in water activities at the lake.
If you are looking for something more adventurous, visit the south-central region of Wisconsin. Due to the amount of water-themed parks in this area, Wisconsin is often called "The Waterpark Capital Of The World". But this region does not only offer thrilling water parks but is also home to the beautiful state capitol and various other historic attractions. When in the area, be sure to visit Stonefield, Old World Wisconsin, Sylvanus Wade House and Madeline Island Museum.
Education is another reason why so many people visit Wisconsin. The state is home to several renowned schools, such as Concordia University Wisconsin, Marquette University and the University of Wisconsin. Our training center offers you the best TEFL/TESOL training on the market. Come and join our course and you will soon embark on your adventure of teaching English as a foreign language in different countries around the world.
Register now & get certified to teach english abroad!