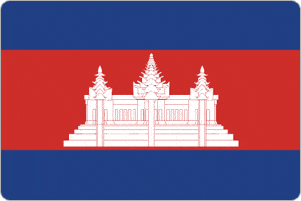 Our TEFL training course in Cambodia gives you the opportunity to earn an accredited and internationally recognized TEFL certification in a country with a rich and diverse history. You'll experience the traditions and lifestyle of one of the most fascinating places in Southeast Asia and on successfully completing the course, you may well decide to stay on and teach English here.
Cambodia is a land of many fascinating and awe inspiring sights and sounds, from the large temple complex of Angkor to the magnificent Tonle Sap Lake, there is always something new to see and discover. You can explore the history of the Khmer civilization among the many ruins that abound in the country, the most famous of which is Angkor Wat. If you join our TEFL course in Cambodia, not only will you get to experience all that this country has to offer but you will also earn a qualification that will equip you with the skills you need to teach English in Cambodia and elsewhere in the world.
TEFL Cambodia
If you are interested in living and working in Cambodia, our TEFL course is the right place to start your job hunt. It is much easier to secure work when you are already in the country than it is from outside and our local team will be there to help you with the process. We offer our TEFL courses throughout the year, so you are bound to find a course date that suits your schedule. Our location in Cambodia offers you the experience of a lifetime.
TEFL Course in Siem Reap, Cambodia
The city of Siem Reap is well known around the world as the gateway to the vast and breathtaking Angkor Wat temple complex. This ancient UNESCO World Heritage Site draws a huge number of international visitors who come to explore one of Asia's most extraordinary attractions. Temples aside, there is also plenty more to Siem Reap once you scratch the surface. The city is famous for its vibrant and varied nightlife, the quality of the local cuisine, seemingly endless shopping opportunities, and the range of tours and adventures that are available in and around the area.
As a popular tourist spot it is no surprise to find that there are a vast number of hotels, guest houses, and hostels to choose from, whatever your taste and budget. Getting around the city and surrounding area is also easy and very affordable. Whether you want to hire a motorbike taxi (moto) to take you to a local restaurant or a tuk-tuk for a day trip around the temple sites, it will cost no more than a few dollars. The cheap cost of living is one of the big attractions of taking a TEFL course in Cambodia as your hard earned cash will stretch much further than in many other countries.
With dedicated staff and experienced trainers, ITTT offers quality training to people who want to become TEFL qualified in Cambodia. On completion of the course, you will have gained one of the most highly regarded TEFL certificates available that will allow you to find teaching positions countrywide. Our training centre is also in a prime location for you to go on and teach in other countries in the region.
Apply now & get certified to teach english abroad!