The TEFL International course in northern Thailand is held in Chiang Mai, which was once the capital city of the Lanna Kingdom and is now the capital of North Thailand. Chiang Mai was founded more than 700 years ago, and is one of the oldest cities in Thailand; it's recognized as having an independent cultural personality of its own. The Thai people love their beloved northern capital; a quaint, walled and moated city surrounded by a beautiful landscape nestled in a valley surrounded by national parks consisting of mountains, rivers, forests, waterfalls, meadows and rice fields. As a location, Chiang Mai offers a unique experience for TEFL International TEFL Courses in Thailand.
Many feel that Chiang Mai is an essential part of any visit to Thailand. Located more than 700km northwest of Bangkok, Chiang Mai has more than 2,000 temples, some of which date back over 500 years, of which an impressive 121 are within the municipal boundary. This is close to the total number in Bangkok, and makes the old city centre of Chiang Mai visually striking. The historical architecture of Chiang Mai has evidence of Lanna, Thai, Mon, Sri Lankan and Burmese influences, with ornate woodcarvings decorating most temples. These include the magnificent Wat Phrathat Doi Suthep, built in 1383 at an altitude of 1300 meters above the city this temple stands as a light to all. Wat Pra Singh, possibly the city's most famous temple lies inside the city center; constructed between 1385-1400 and Wat Chiang Mun, its oldest temple, said to date from the founding year of the city (1292). Chiang Mai is also an exciting, modern city, which has successfully managed to blend its unique cultural identity with an increasingly modern side.
Chiang Mai has always had its cultural treasures, relative peacefulness, delicious food, great handicraft shopping and proximity to many beautiful natural features. Changes are showing though, with chic, Thai-style boutique hotels appearing everywhere. One look at the new restaurants, bars and shops, most notably in the Nimmanhaemin district, gives an indication of how much the city's identity is changing. Despite this Chiang Mai still manages to keep its relaxed, temple-sprinkled, cultural capital atmosphere it has always been known for. With its many and varied attractions, the days of Chiang Mai being treated as a quick stop off point before venturing to the hills are long gone.
The city itself covers an area of 154 square kilometers. It is situated 300 meters above sea level, 700km northwest of Bangkok, and as a result enjoys a dry and cool climate. However, Chiang Mai still retains a tropical weather system, experiencing monsoons, which arrive from India at the end of May, (23 -32 ºC / 73 – 90 ºF) and stay until November (19-30ºC / 66-80. ºF). During this period, it will often rain for a few hours in the afternoon. Cool air from China brings milder weather from November to May, the dry season, and during this period temperatures range from (13-36ºC / 55-97ºF).
Apply now & get certified to teach english abroad!
The School
Our modern TEFL training centre in Chiang Mai has all the facilities that you could require and is designed to be environmentally friendly. It's located close to Nimmanhaemin and the city centre, convenient for the airport and with the city's biggest and most popular shopping centre nearby.
The TEFL International training centre is within easy reach of the local schools at which TEFL trainees complete their six teaching practices. These schools are very welcoming to foreign teachers and provide for the underprivileged or are linked to a temple. Our long-term commitment to our community and partnership with these schools provides students with opportunities they would not have otherwise received.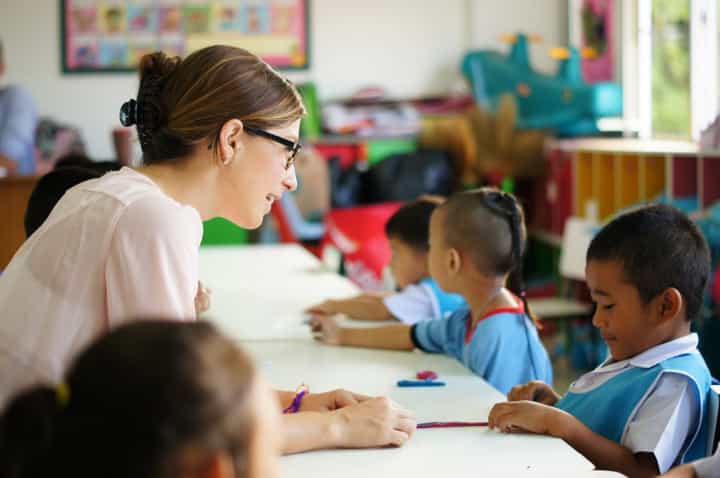 Our trainers are some of the best, most experienced in the business and will guide you on your journey to becoming an effective TEFL teacher. They will offer you insight into the life of a TEFL teacher as well as providing you with all the tools to teach an effective, fun, inspiring lesson. You will learn a variety of teaching methodologies, classroom management techniques and a taste of the Thai language on your path to becoming a qualified TEFL graduate with TEFL International.
Accommodation
Chiang Mai benefits from a wide choice of accommodation to suit all price ranges. Budget hostels can be found for as little as $150 per month and more comfortable hotels, guesthouses and small condos are available from $ 200 to $300 per month.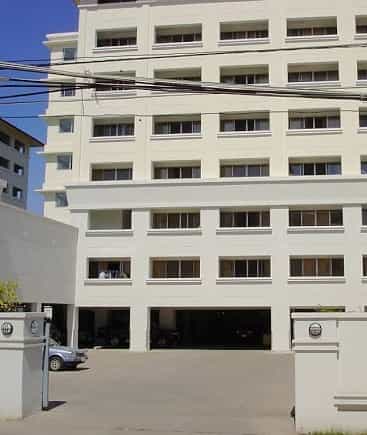 Some sample accommodation options, with pricing in Thai baht:
Suite: (56 sq m): 18,000 baht / month
Air conditioning with remote control
King size bed
Working desk and chair
Dining table with two chairs
Wardrobe
Hot water heater
Pantry
Fridge
Cable TV
All modern style furniture
Superior deluxe: (35 sq m): 7,500 baht / month
Air conditioning with remote control
One 5 foot bed or two 3.5 foot beds
Working desk and chair
Wardrobe
Hot water heater
Pantry
Fridge
Cable TV
Rooftop Swimming Pool
VIP (30 sq m): 6,500 baht / month
Air con with remote control
One 5 foot bed or two 3.5 foot beds
Working desk with chair
Cable TV
Fridge
Wardrobe
Hot water heater
Swimming Pool
Standard (25 sq m): 5,500 baht / month
Air con
One 5 feet or two 3.5 feet bed
Cable TV
Wardrobe
Hot water heater
Course dates

Coming soon...
We are presently in the process of establishing a new course in Chiang Mai and therefore there are currently no dates available for this location. We anticipate that the course should be running here within the next 6-8 months. If you would like to attend a course at this location, please let us know and we will send you full information as soon as the course dates are finalized.
Please check out our other course locations if you wish to attend a course before this one becomes available...
Course fees
The total price is divided into: deposit and balance.
The deposit may be paid via a) credit card b) Paypal c) wire transfer d) Western Union.
The balance of the course fee must be paid by cash, PayPal or bank transfer directly to the training center on the first day of the course.
Deposit
US$ 600
to be paid in advance
+
Balance
US$ 990
to be paid on arrival
Accomodation Fees
The accommodation fees are not part of the course price and you are free to choose whichever accommodation option you prefer.
You are not obliged to use the accommodation provided by the school and you are welcome to make your own accommodation arrangements. If you choose to use our accommodation, it should be paid for either by cash, PayPal or bank transfer directly to the school at the start of the course.
And up
US$ 150
(to be paid on arrival)