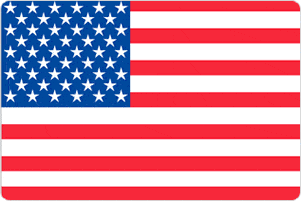 Although Salt Lake City is one of the smaller cities where we offer our TEFL/TESOL training course, it still has plenty to offer those who choose it as their destination. Famous for hosting the 2002 Winter Olympic Games, the city and its surrounding area boasts some of the finest winter sport facilities in the country. The region's beautiful and rugged terrain also provides an ideal playground for all manner of outdoor pursuits such as hiking, rock climbing and mountain biking. As the capital and largest city in Utah, Salt Lake City is equally popular with thousands of less energetic visitors who come to explore the stunning natural landscape from the comfort of their own car or tour bus.
Famously founded by Mormon settlers in the 19th century, Salt Lake City has steadily grown from its original population of religious converts and rugged gold prospectors, to become a diverse, modern city that is increasingly popular with tourists, students, and those looking for a new place to live and work. Thanks to its central location in the Western united states, the city has long been a popular base for visitors to the many natural attractions in the area such as the Wasatch and Oquirrh Mountains, and the Great Salt Lake itself. However, if you are not a fan of the great outdoors you will find plenty of other things to keep you amused when you are not in the classroom, including the Lagoon Amusement Park, a range of museums and galleries, extensive shopping opportunities, and plenty of excellent cafés and restaurants.
With a modern and vibrant atmosphere and a variety of attractions both indoors and outdoors, visitors to 'The Crossroads of the West' are sure to find something to enjoy at any time of the year. Whether you enjoy skiing or snowboarding, hiking or biking, shopping or eating out, you will certainly have a memorable time completing your certification course in Salt Lake City, Utah.
Register now & get certified to teach english abroad!
The School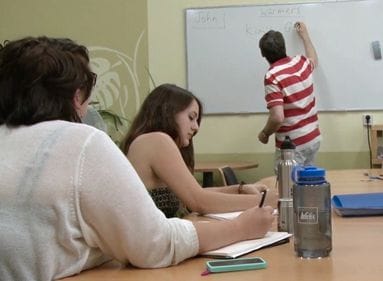 In the build up to hosting the 2002 Winter Olympic Games, Salt Lake City received huge amounts of investment in its infrastructure which has helped it to become a popular tourist destination year-round. The modern city is now a favorite with winter sports enthusiasts, and a popular jump off point for visitors to the many spectacular national parks in the region. If you love outdoor pursuits or are a fan of stunning natural scenery, then Salt Lake City might be the perfect location to complete your TEFL/TESOL training course.
Our central location in the heart of the downtown area means we are ideally located close to a wide range of amenities such as shops, banks, cafés and restaurants. The city's excellent light-rail system and extensive bus networks are also close-by providing quick and efficient access to every part of the city and further afield. The training center itself is an up-to-date language school that has multiple classrooms that are purpose built for language learning. Throughout the course you will have access to all our extensive facilities such as a resource library, photocopying equipment, Wi-Fi internet, and tea and coffee making facilities.
As the course is based in a real ESL school you will be immersed in an intense language learning environment throughout your stay. To further maximize the quality of instruction you receive from our professional teacher trainers, we purposely limit each course to a small number of trainees. Lessons at our Salt Lake City training center normally run from 5:30 p.m. to 10:30 p.m. Wednesday to Friday and from 9:00 a.m. to 6:00 p.m. on Saturdays and Sundays.
Accommodation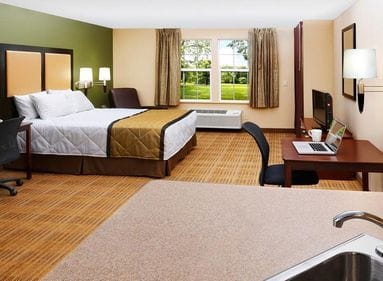 As a popular destination for winter sports and other outdoor pursuits, Salt Lake City has a considerable amount of accommodation aimed at every level of budget. If you have a particular preference you can make your own arrangements or you are free to choose our recommended option. We are happy to recommend this complex of apartment style rooms as it is ideally situated close to the training center, and just a short bus ride from all the major entry points to the city.
Designed with long-stay guests in mind, each apartment is reasonably priced and includes a private kitchen so guests can save money on their food budget. You will find a refrigerator, stovetop, microwave, coffee maker, and all the necessary utensils on hand, as well as other services such as daily breakfast and Wi-Fi. This option can be booked for your preferred dates as soon as you register for a course at our Salt Lake City training center.
Course dates

Coming soon...
We are presently in the process of establishing a new course in Salt Lake City Utah and therefore there are currently no dates available for this location. We anticipate that the course should be running here within the next 6-8 months. If you would like to attend a course at this location, please let us know and we will send you full information you as soon as the course dates are finalized.
Please check out our other course locations if you wish to attend a course before this one becomes available...
Course fees
The total price is divided into: deposit and balance.
The deposit may be paid via a) credit card b) Paypal c) wire transfer d) Western Union.
The balance of the course fee must be paid by cash, PayPal or bank transfer directly to the training center on the first day of the course.
Deposit
US$ 700
to be paid in advance
+
Balance
US$ 595
to be paid on arrival
Accomodation Fees
The accommodation fees are not part of the course price and you are free to choose whichever accommodation option you prefer.
You are not obliged to use the accommodation provided by the school and you are welcome to make your own accommodation arrangements. If you choose to use our accommodation, it should be paid for either by cash, PayPal or bank transfer directly to the school at the start of the course.
per night
US$ 76
(to be paid on arrival)
To be booked directly through Extended Stay America