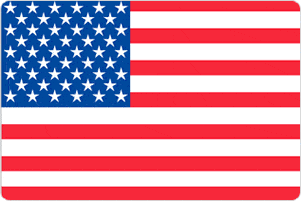 Surrounded by the vast expanse of the Mojave Desert, the city of Las Vegas provides a truly unique destination for our training course. Surely nowhere else in the world is as geared towards fun and entertainment as Vegas, with seemingly countless casinos, mega-resorts, bars, theaters and nightclubs spread all over the city. Food lovers are also spoilt for choice as you will find an extraordinary selection of eateries on offer, from traditional American favorites such as burgers and spare ribs, to international cuisine from all corners of the world. Shopping is yet another popular pastime as the city has a number of huge and diverse malls that would take several weeks to fully explore. With all this and more, it is no wonder that Las Vegas is known as the 'Entertainment Capital of the World'.
Although the modern city was founded over 100 years ago, it was the boom years of the 50's and 60's that saw Las Vegas develop into the mega-resort that it is today. Much of the original 'Sin City' of that time has gradually disappeared as new development aimed at a wider appeal has slowly transformed the city into a tourist hot-spot that has something for everyone. Legendary casinos such as Caesars Palace, the Mirage, and the Palazzo offer a wide variety of entertainment besides gaming, with hit Broadway shows, live sports events, world-renowned magic extravaganzas, and concerts featuring the very biggest names in show business.
Elsewhere in the city you can enjoy some of the most unique shopping experiences to be found anywhere in the world. As well as hundreds of shops covering every kind of product you can imagine, you can also enjoy the themed surrounds of the city's malls which include gondola rides on the canals of Venice, and the cobbled streets of paris. Back at the casinos, there are several well-known free attractions that most visitors will want to experience. The most famous of these include the Fountains of Bellagio, the erupting volcano at the Mirage and the Fall of Atlantis show at Caesars Palace. The unique range of fun to be had in Las Vegas, both in and away from the big casinos, means it is consistently popular with visitors of all ages, as well as our course trainees.
Register now & get certified to teach english abroad!
The School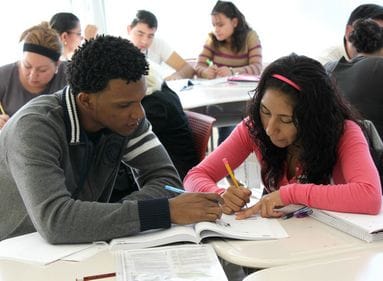 During your time on our Las Vegas course you will never be far away from all the fun and excitement as our training center is conveniently located within walking distance of the vibrant downtown area. If you are not so energetic you can also take advantage of the city's public transport that can be found right outside the building. From our center you can easily reach all the main areas in and around the city, including the Las Vegas Strip, the Fremont Street area, and McCarran International Airport.
The venue for our course is a modern language center that provides the perfect environment for teacher training. Each classroom is equipped with everything necessary for the delivery of professional language lessons, including air-conditioning for the summer months. We also have Wi-Fi throughout the center and an extensive library of teaching resources. During the course you will be in class from 5:30 p.m. to 10:00 p.m. Wednesday to Friday and from 9:00 a.m. to 5:00 p.m. on Saturday and Sunday. The class size for each course is intentionally restricted to give every trainee the maximum amount of individual instruction possible.
Accommodation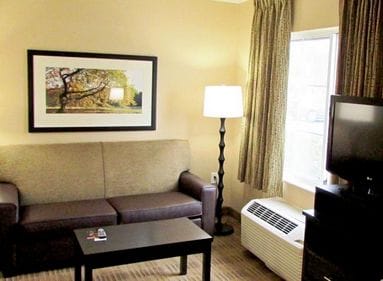 The city of Las Vegas is home to some of the biggest and most famous hotels and resorts in the world, as well as countless smaller and more affordable options. If you are in need of accommodation during your training course, you are free to make any arrangements that suit your preference and budget, or you can choose an option that has been recommended by our training center in the city. With a convenient central location and recently renovated rooms, this apartment-style complex is both comfortable and affordable.
One reason why this option has proved to be popular is that each room includes a private kitchen so you can save money on eating out. The kitchen has a good range of equipment including refrigerator, stovetop, microwave and coffee maker, as well as dishes, cutlery and cooking utensils. You also receive a complimentary daily breakfast, and the use of an onsite swimming pool and fitness center. If you are interested in our recommended accommodation, you can request further details once we have received confirmation of your course booking.
Course dates

Coming soon...
We are presently in the process of establishing a new course in Las Vegas Nevada and therefore there are currently no dates available for this location. We anticipate that the course should be running here within the next 6-8 months. If you would like to attend a course at this location, please let us know and we will send you full information you as soon as the course dates are finalized.
Please check out our other course locations if you wish to attend a course before this one becomes available...
Course fees
The total price is divided into: deposit and balance.
The deposit may be paid via a) credit card b) Paypal c) wire transfer d) Western Union.
The balance of the course fee must be paid by cash, PayPal or bank transfer directly to the training center on the first day of the course.
Deposit
US$ 700
to be paid in advance
+
Balance
US$ 595
to be paid on arrival
Accomodation Fees
The accommodation fees are not part of the course price and you are free to choose whichever accommodation option you prefer.
You are not obliged to use the accommodation provided by the school and you are welcome to make your own accommodation arrangements. If you choose to use our accommodation, it should be paid for either by cash, PayPal or bank transfer directly to the school at the start of the course.
per night
US$ 69
(to be paid on arrival)
To be booked directly through motel 6